Management Team
Anoosheh Oskouian
As the President and Chief Executive Officer of Ship & Shore Environmental, Inc. she directs the corporate strategy for marketing and product development with her team of sales engineers, design engineers, project managers, fabricators, service technicians and other support staff to design, fabricate, install and commission state-of-the-art air pollution abatement equipment.
Her reputation in this industry has been proven through the many years of excellent rapport that she has developed with her clients. By studying each application carefully, she understands what data is critical to anticipate their needs for today and in the near future. Each engineering solution is custom designed to not only help a client meet their environmental obligations, but also contemplates how each facility's unique manufacturing practices and requirements will be integrated into the design and operation of the best pollution abatement solution. Her in-depth process knowledge and expertise provide the foundation for designing superior, innovative, efficient equipment and reliable technologies that help industry to collect and destroy air pollution emissions.
For many years she has served, and continues to serve, as an advocate for manufacturers through active participation on several boards and committees i.e. BACT (Best Available Control Technology) committee member for the SCAQMD (South Coast Air Quality District), board member of Western Region SPI (Society of Plastics Industry), Expanded Polystyrene (EPS) group, board member of WPA (Western Plastics Association) and FBF (Film & Bag Federation). Board and committee participation along with planning of meeting agendas and annual conferences has enabled her to develop close relationships among the membership of these trade organizations. As a member of the Society of Plastics Industry she has served on the Public Policy Committee and Environmental Council and has met with legislators and testified at government hearings on behalf of industry.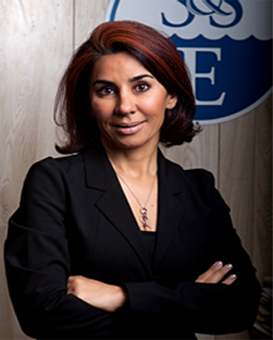 Her knowledge and experience with combustion equipment such as thermal oxidizers, catalytic oxidizers, boilers, burners, carbon and zeolite adsorption, etc. is primary to her business. In addition, waste heat recovery and energy consumption reduction is an integral part of each engineered solution. Due to the economic and market demands on businesses to reduce operational costs, she has utilized her knowledge and experience to expand the line of products and services offered by her company to meet these needs.
To better address client requests for help with the ever-increasing regulations on manufacturing such as global warming and carbon footprint reduction issues she launched a new division known as Green Energy Industrial Solutions. Her vision for this new entity capitalizes on years of experience gained while helping her clients implement a variety of energy reduction strategies including alternative energy sources. These strategies not only provide a positive payback to a clients' bottom line, but also reduces their carbon footprint i.e. greenhouse gases emissions, and positively affects corporate sustainability programs that promote "green branding".
In addition to her business, she also serves her community by volunteering. She is a founding member of "CHILD" (Children's Hope International Literacy & Development). This organization helps children in need to further their education and provides basic necessities such as clothing and food. You can find out more about this organization on their website www.child-international.org
She is also a board member of Pacific Symphony in Orange County and the Youth Ensemble.
John Von Bargen
John Von Bargen is the Vice President and Director of Engineering for Ship & Shore Environmental, Inc. His expertise spans 30+ years of designing energy efficient VOC abatement equipment for a variety of industrial manufacturing processes. Regenerative thermal oxidizers, concentrators, carbon adsorbers, heat exchangers, flares, and boilers are just some of the areas of his expertise.
He started his career after graduating from the Merchant Marine Academe, Rotterdam, Netherlands as a mechanical engineer. He has worked in a variety of engineering positions over the years gaining knowledge from ship yard tanker construction, to plant engineer for the physical plant at Loyola Marymount, and on to VP of Engineering for manufacture of Chemilluminescent, Ozone and NOx analyzers, FID's , LEL monitoring and control systems. He is an innovator that is always developing solutions to challenges in manufacturing operations.