Oxidizer Equipment Maintenance, Repair & Spare Parts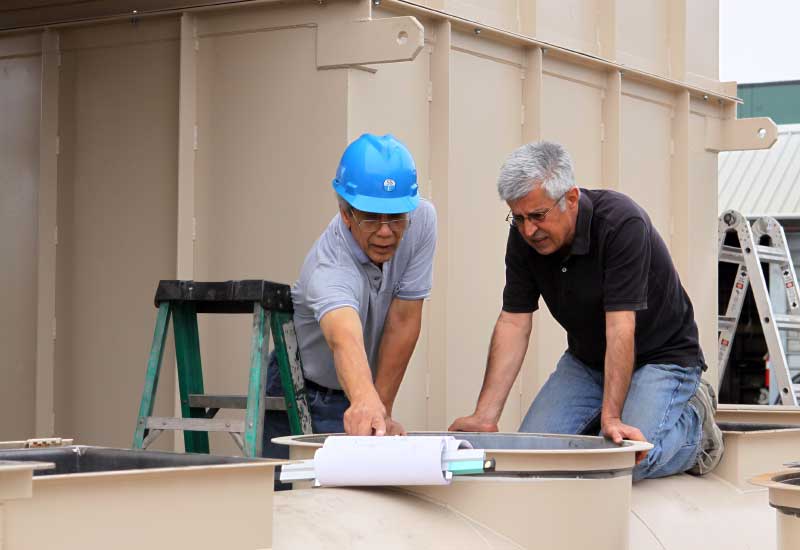 When it comes to thermal oxidizers it is important for manufacturers to have a trusted oxidizer supplier and technician available to  provide preventive maintenance, repairs and spare parts in a timely and professional way.
Regenerative thermal oxidizers are very reliable and durable pieces of equipment.  It is often an issue of compliance, misuse or malfunction that would generates a call for oxidizer service of some kind.
Manufacturers should have a plan in place not just to meet regularly and compliance issues, but for the safety of their employees, but for the sustainability of the business as well by preventing costly downtime.
Ship & Shore provides such plans and trained oxidizer technicians and engineers.  We provide a thorough inspection and propose cost effective oxidizer maintenance solution's that often lead to optimal productivity, efficiency, safety and guaranteed compliance.
Most common aftermarket oxidizer
services provided by S&SE:
AIRFLOW BALANCING
BURNER TUNING & OPTIMIZATION
CATALYST TESTING
CATALYST REGENERATION
CATALYST REPLACEMENT
CONTROLS & INSTRUMENTATION
THERMAL TO CATALYTIC COVERSIONS
DATA LOGGER UPGRADE
ENERGY EFFICIENCY UPGRADES
EQUIPMENT RELOCATION
HEAT EXCHANGE MEDIA UPGRADE
HEAT EXCHANGER RETROFIT or REPAIR
IMPROVE OVERALL VOC CAPTURE
INCREASE VOC DESTRUCTION
INSULATION & REFRACTORY
INSTRUMENTATION CALIBRATION
INTEGRATED VPN (modem upgrade)
LOW NOx BURNER RETROFIT
OPERATING COST ASSESSMENT
PLC PROGRAMMING UPGRADE
PLC, HMI CONTROL UPGRADE
RECONDITIONING & RETROFITS
VFDs (variable frequency drive)
CEM SYSTEMS (continuous emission
monitoring)
Ship & Shore helps manufacturers maintain compliance with complete environmental solutions for air pollution abatement and energy and heat recovery systems for maximum efficiency and cost effective operations.  Call or Email us today to see how current and coming regulations may affect your manufacturing application.  Your project may be eligible for significant  cash incentives from energy efficiency programs! Call 562.997.0233   or EMAIL us by clicking here.