Regenerative Thermal Oxidizer (RTO)
Helping Manufacturer's Meet Environmental Regulations
Regenerative Thermal Oxidizer (RTO's) from Ship & Shore Environmental meet the most stringent air pollution abatement regulations. Let our expert team of engineers help your company improve efficiency, performance, reduce greenhouse gases and regulatory issues.
Custom Engineered VOC Abatement Systems
Tthe EPA, SCAQMD, BAAQMD, TCEQ, and other authorities on air quality require organizations to collect and destroy VOC emissions from their manufacturing operations.  At Ship and Shore Environmental we provide our clients with the right equipment as experienced Regenerative Thermal Oxidizer Manufacturers.  Equipment that is specifically designed & sized to meet the particular process conditions of your facility. We are not limited to just one technology.  In fact, we offer a broad set of products and services to our customers including CAD design, customized fabrication, and project management.  Working with our customers closely we serve as a true engineering partner and Regenerative Thermal Oxidizer Supplier. During our development of a customer's design our goal is to offer the highest-quality and most reliable VOC Thermal Oxidizer abatement systems for each specific application. Our team is capable of providing complete support from the initial concept all the way through installation and into the commissioning.
For each unique project we utilize our experience and expertise to create the best overall system. Our factory trained technicians are available by phone 24/7 to help with service, troubleshoot issues and maintain these VOC abatement systems, including Regenerative Thermal Oxidizers.
View Ship & Shore Environmental Regenerative Thermal Oxidizer Installations: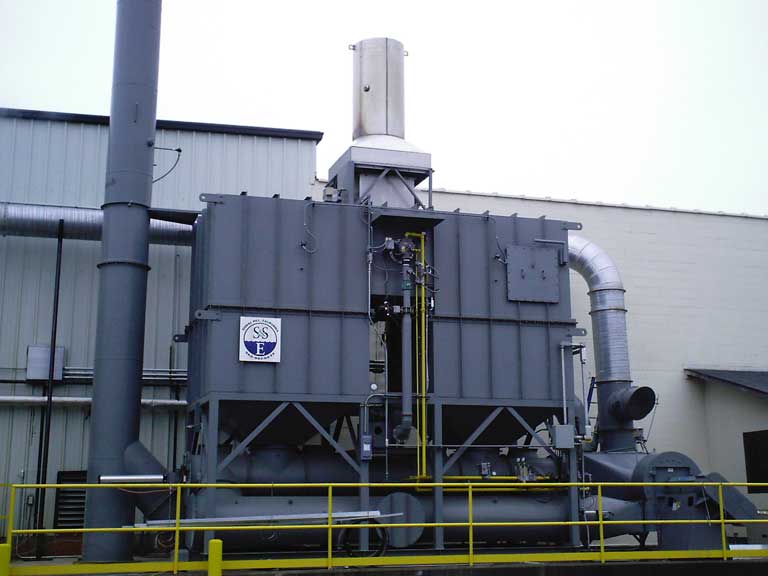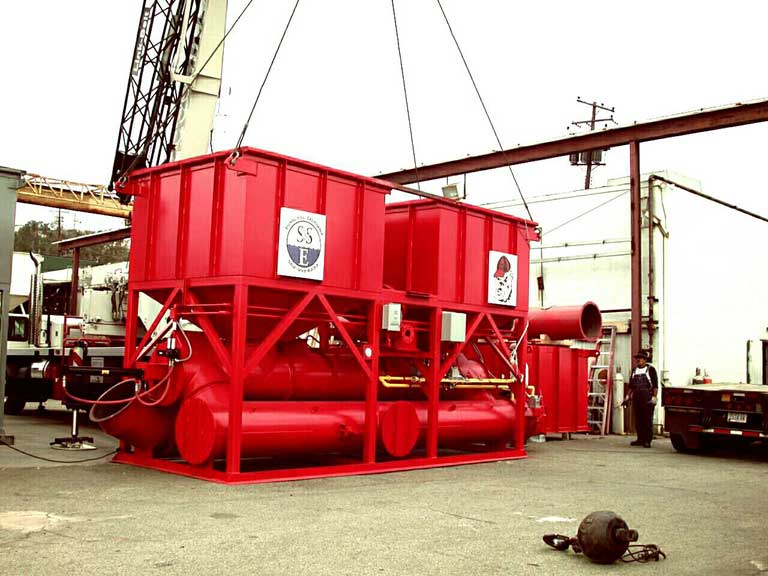 The Regenerative Thermal Oxidizer (RTO)
Ship & Shore's Regenerative Thermal Oxidizer converts volatile organic compounds into carbon dioxide and water. VOC's are commonly emitted by manufacturing facilities.  Typically known as solvent fumes, hydrocarbons,  hazardous air pollutants, halogenated hydrocarbons and odorous emissions.
Typical Process Applications for the Regenerative Thermal Oxidizer include, but are not limited to:
High flow rates & volatile organic compound (VOC) concentrations up to 25% of the Lower Explosive Limit.
VOC destruction rates ranging from 96-99%
Differing solvent mixtures and/or exhaust air volumes running  together on same production line.
Regenerative Thermal Oxidizer Capabilities:
Heat recovery will be as high as 95%-97%.
VOC destruction rates will range from 96%-99%.
Low NOx Burners
The ability to work with chemicals in a solvent mixture providing catalyst-destroying properties.
Having multiple burners available: propane, natural gas, Low BTU gas, LPG or fuel oil burners.
Little, if any, fuel support is needed for most applications.