Ship & Shore Clean Tech Thermal Oxidizer RTO Design Features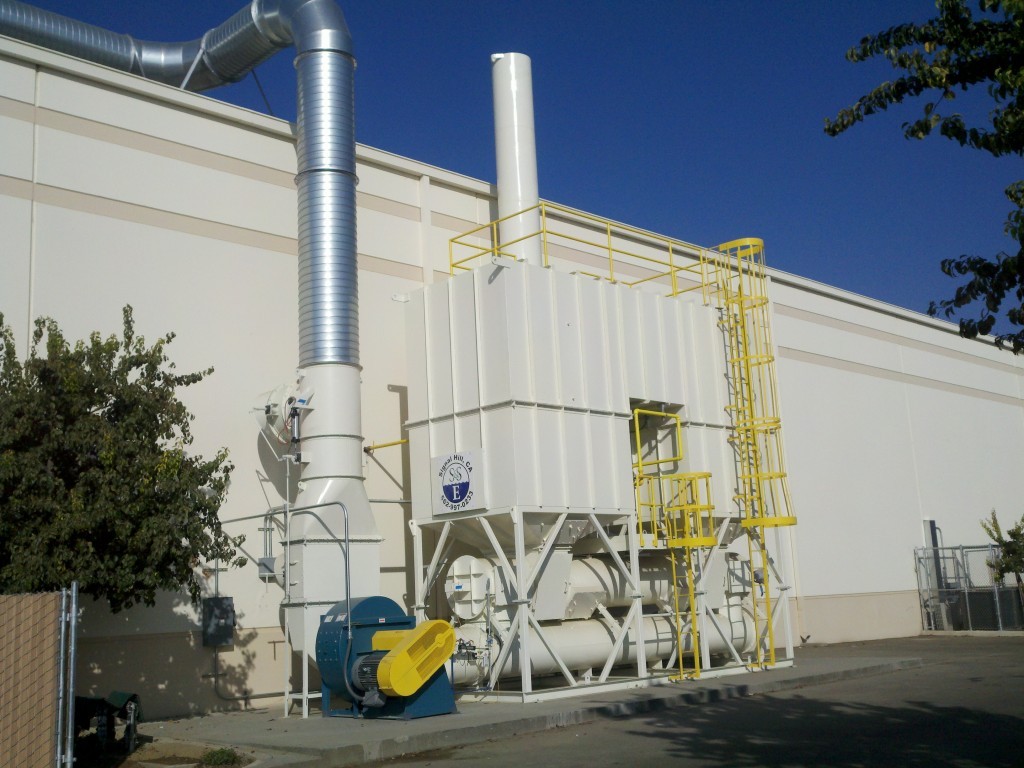 The S&SE Clean Tech RTO converts Volatile Organic Compounds  (VOCs), Hazardous Air Pollutants (HAPs) and odorous emissions into carbon dioxide and water which is then directed to energy recovery chambers and heated through highly efficient structured media beds for energy recovery.  The recovery of the thermal energy from the oxidation process reduces operating costs significantly while meeting stringent air pollution compliance requirements.
S&SE REGENERATIVE THERMAL OXIDIZER (RTO) DESIGN FEATURES:
HEAT RECOVERY AS HIGH AS 95-97% & VOC DESTRUCTION EFFICIENCY 96-99%
HIGH FLOW & VOC CONCENTRATIONS OF UP TO 25% OF THE LOWER EXPLOSIVE LIMIT (LEL)
VARYING SOLVENT MIXTURES and/or VARYING EXHAUST
AIR VOLUMES RUNNING ON THE SAME PRODUCTION LINE
RELIABLE POPPET VALVE DESIGN ACHIEVES 99% DESTRUCTION WITHOUT PUFF CHAMBER
USER FRIENDLY DESIGN FOR RAPID INSTALLATION & EASE OF MAINTENANCE
STATE-OF-THE-ART RTO CONTROL SYSTEM PROGRAMMABLE LOGIC (PLC) WITH DATA RECORDER & REMOTE ACCESS
VARIABLE FREQUENCY DRIVE (VFD) FOR REDUCED ELECTRICAL CONSUMPTION
INTEGRATED VPN FOR REMOTE TROUBLESHOOTING & VIEW OF
REAL TIME OPERATIONS
LOW NOx BURNERS or MULTIPLE BURNERS AVAILABLE:
natural gas, propane, LPG, low BTU gas, or fuel oil burners.
SELF SUSTAINING FOR MOST APPLICATIONS
SMALL EQUIPMENT & CARBON FOOTPRINT
100% COMPLIANCE TRACK RECORD
AVAILABLE OPTIONS: HOT BYPASS, SECONDARY HEAT & ENERGY RECOVERY SYSTEMS, FREE STANDING CONTROL HOUSE, PERMANENT TOTAL ENCLOSURES
To learn more about the innovative RTO & environmental solutions that Ship & Shore Environmental provides, please contact us for a confidential consultation with a member of our team. CLICK HERE TO CONTACT OUR GLOBAL OFFICES. or call (562)997-0233 today.