Ship & Shore Environmental, Inc. & CEO Solidify Leadership Position in Industry
Long Beach, CA, February 28, 2016– When Anoosheh Oskouian, an Iranian entrepreneur, founded Ship & Shore in 2000, she had plans to profoundly impact manufacturing for the better through her company's innovative industrial air pollution control and heat and energy recovery services. Seventeen years later, she has done just this. But she has had other important impacts as well.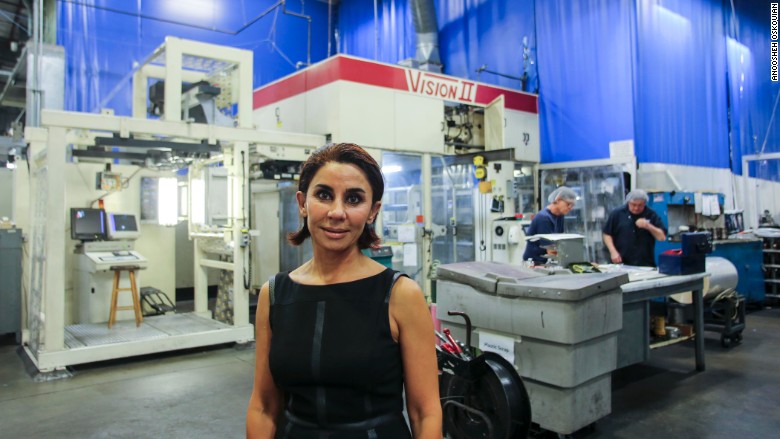 Oskouian, an Iranian who became a U.S. citizen 26 years ago, is increasingly considered an influential immigrant and entrepreneur in the U.S. A couple of week's ago, CNN called her for the second time, asking for her opinion regarding Trump's new immigration ban, particularly as it related Iranians in the U.S. Her response was: "It came as a shock. We were flabbergasted. There are many conversations happening in our community about it. Many of us are asking 'Why Iran?' "Iranians like me who immigrated to the U.S. came here to benefit this country and improve their own lives," she said. "We are entrepreneurs, professors, scientists, artists."
Two years ago, Oskouian won the Ellis Island Medal of Honor for distinguishing herself within her own ethnic [group] while exemplifying the values of the American way of life. Arriving from Iran to the U.S. in 1978, Oskouian became a chemical engineer (she also has an MBA) and today owns and runs Ship & Shore Environmental, Inc. — in California. S&S today has over 100 employees and more than $10 million in annual revenue.
Altogether, Oskouian is a proponent of positive change in her industry, among her fellow Iranian peers and for young women seeking to grow professionally. She has frequent speaking roles at leading industry tradeshows and conferences. From March 19-22nd this year, Oskouian will present at the Technical Association of the Graphic Arts Conference on Energy Efficient Approaches to Innovate the Printing Process. Oskouian serves on a number of regulatory and industry association boards with a passion for philanthropy. Recently, she received awards including the Stevie Women in Business award and the above mentioned Ellis Island Medal of Honor in 2015.
But her company is and has always been the primary driver of her passion. "Reducing air pollution and saving money for manufacturers simultaneously is the primary objective of Ship & Shore's strategy," says Oskouian. We have contributed immensely but there is still so much to be done," she adds. Anoosheh and her team work feverishly to positively influence the environmental industry and the communities in which Ship & Shore operates throughout the US, Canada, Asia and South America. S&S is the only company in its industry that offers a true end-to-end solution including complete project management, assessment, design, testing, engineering, fabrication, construction, compliance and even coordinates product transportation – to the customer site- for installation and start-up.
"When Obama was elected, we knew that environmental consciousness would move to center stage, and took the initiative that our equipment would incentivize clients to improve their pollution control by earning them both government incentives and tax credits. From Obama's election through 2016, we obtained more than US$6 million in tax incentives, and now that number is close to US$7 million. We were one of the first companies to have our clients benefit from both of these funds," says Oskouian, adding "Under Trump, we will continue to do what we do best, – save money for our clients and reduce air pollution for manufacturers and for the general population."
Ship & Shore also designs its own pollution control equipment, making it not just an equipment provider, but a creative solutions provider as well. The engineering team holds a number of patents for its air pollution control products and other related equipment.
About Ship & Shore Environmental, Inc.
Ship & Shore Environmental, Inc. is a Long Beach, Calif.-based woman-owned, certified business specializing in air pollution capture and control systems for industrial applications. Ship & Shore helps major manufacturers meet Volatile Organic Compounds (VOC) abatement challenges by providing customized energy-efficient air pollution abatement systems for various industries, resulting in improved operational efficiency and tailored "green" solutions.   Since 2000, Ship & Shore has been prepared to handle and advise on the full spectrum of environmental needs with its complete array of engineering and manufacturing capabilities and multiple offices around the U.S., Canada, Europe and most recently, China. With over 100 specialized professionals spread throughout the world, the company is dedicated to designing tailored solutions for its energy clients. For more information, visit www.shipandshore.com