Regenerative Oxidizer (RTO) Preventive Maintenance and Troubleshooting
is the Key to Uptime & Maintaining Compliance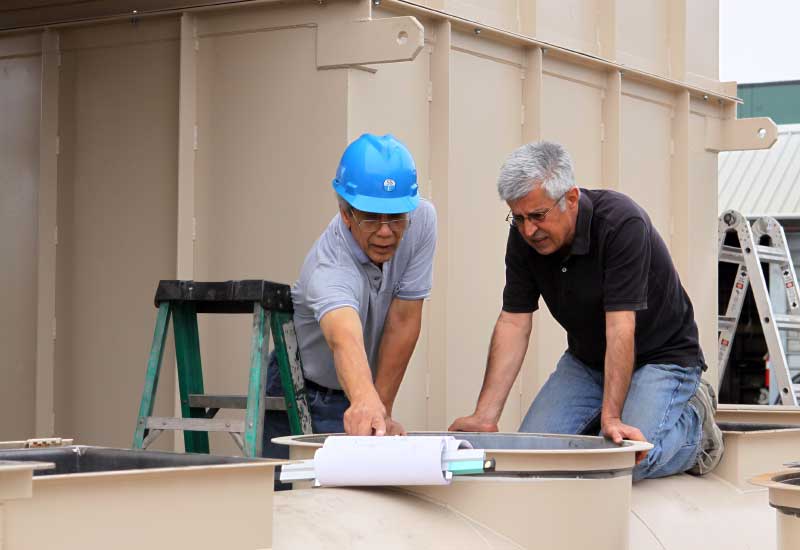 Air Pollution Control Equipment is an important and significant investment for manufacturers.  It is critical to keep systems and processes running optimally to ensure up-time and well as maintain compliance and regulatory issues.  There are many considerations and options when it comes to preventive maintenance that can be done with properly trained on-site employees as well as one of Ship & Shore expert field engineers.
S&SE offers state of the art preventive maintenance services on our RTO systems as well as most models on the market as well as on site operator training to maximize your investment with optimal function and efficiency.
The key to reliable operation is to maintain the system continually throughout the year, especially during the cold weather. Some important and preventive steps you can take are:
Visual daily check of the equipment for discoloration, cracks, splits, debris, etc.
Install desiccant-style dryer for compressed air supply to prevent condensation/moisture in the system.
Keep critical spare parts in stock to reduce equipment downtime should a component fail.
Follow operating manual preventive maintenance and required compliance schedules.
Utilize trained Ship & Shore field engineer to provide annual fine tuning of the unit.
Ask Ship & Shore about upgrading the PLC program & HMI for "user friendly" troubleshooting, real time system information, and improved energy-efficiency.
Prevent Moisture in Compressed Air Supply 
Check your desiccant dryer and compressor air lines regularly for leaks and condensation.  A handy measurement tool is to drain compressed air accumulator tanks to make sure the compressed air is free of moisture. To minimizing the impact of cold weather on the system, replace or rebuild pneumatic components to ensure these components are working properly.
As a leading technology provider, Ship & Shore Environmental, Inc. specializes in the design and fabrication of air pollution abatement systems for manufacturers.
As an engineering partner, providing advice and technical support to our clients when air quality regulations need to be addressed which may include meeting with compliance agencies. Second, as a solutions partner we develop technical solutions that meet VOC collection and abatement regulations.
We have experience negotiating with many different air quality agencies from EPA to the local air quality agencies, as rules vary throughout the U.S.A. and Canada.
We are confident that our knowledge and experience will be helpful when it comes to meeting the air quality rules for your area.
Please feel free to give us a call when you have questions, or need some expert advice, regarding air pollution abatement or waste heat recovery. To arrange for your preventive maintenance inspection , call Ship & Shore and out trained technicians today at (562)997-0233.