Ship & Shore Offers Aftermarket Oxidizer Services,
Repair Emergency & Troubleshooting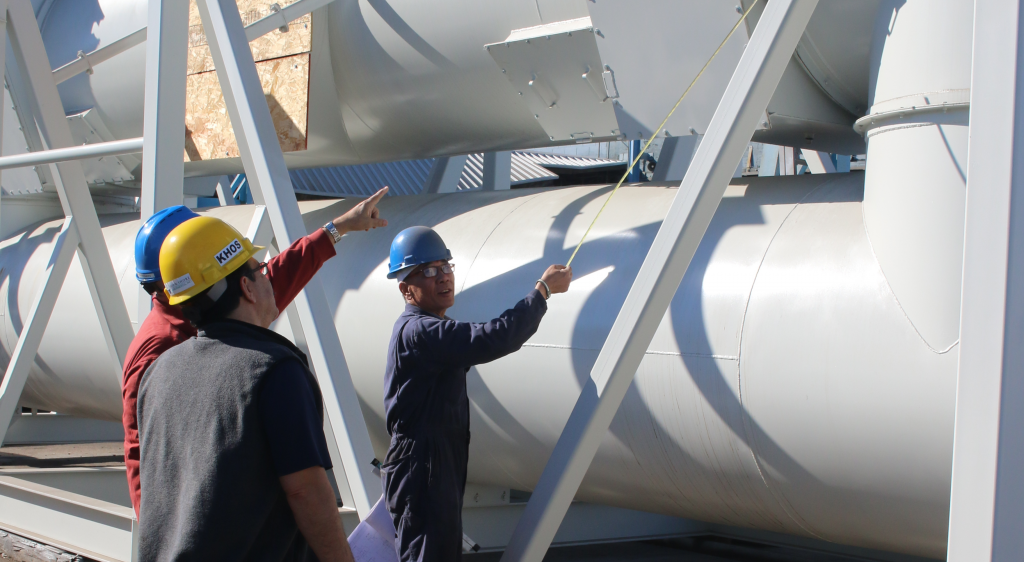 Ship & Shore has installed regenerative thermal oxidizers (RTOs) for hundreds of clients, helping them become much more energy-efficient via air pollution capture and control systems for industrial applications.
But even more than that, we have also helped clients save money by providing a wide range of after-market services ranging from routine inspections to preventive maintenance and optimization services that may include replacing or upgrading RTO parts.
"Apart from our high-end RTO products, we also are highly qualified to supply after-market service and products," says Anoosheh M. Oskousian, president and CEO of Ship & Shore Environmental, based in Long Beach, Calif. "And we can service most oxidizer manufacturers in the market as well as offer compatible after-market products such as heat-exchangers, economizers, condensing boilers, and PLC upgrades."
Oskouian explains that the National Fire Protection Associated (NFPA) 86 standards and  clean air permits often require oxidizer operators to have scheduled maintenance programs for their systems. To that end, Ship & Shore Environmental provides inspection, preventive maintenance, general service and repairs, retrofits, and spare parts – all steps to ensure the highest oxidizer performance.
Ship & Shore's retrofits and upgrades include Heat Recovery Units and Energy Reduction, which increase capacity, improve capture and increase destruction rate efficiency. It also offers Burner Tuning and Upgrades, Reliability Adjustments, Engineering and Feasibility Studies as well as assistance with applying for Utility Rebates and Incentives.
Preventive Maintenance starts with an in-house review of the Oxidizer and process diagram followed by audit of the system's operation, and an extensive inspection checklist.
Customers receive a detailed report with recommendations for improving performance, reliability, and safety upon completion of the inspection service.
"Our Standard preventive maintenance is based on equipment make and model and consists of four categories," Oskouian says, adding that Ship & Shore Environmental offers quarterly, semi-annual and annual PM Service programs.
Electrical Inspection and Component Tests include, but are not limited to: Thermocouples, Switches, Actuators, Variable Frequency Drive (VFD), Motors, Starters, Burner Control System, Temperature and Pressure Controllers, Chart Recorder, Lights, Relays, Timers, Emergency Stops, Disconnects,  Human Machine Interface (HMI),  and Integrated VPN.
External and Internal Mechanical Inspections include, but are not limited to: Reactor Chambers, Access Doors, Compressed Air Train, Valves, Media or Catalyst, Insulation, Fan(s), Ductwork and Exhaust Stack, Fuel Train, Burner(s), Expansion Joint(s), Control Panels, Dampers, Collection Plenum, and Flame Arrestors.
Process Control Analysis includes, but is not limited to: System Startup Cycle, Online Conditions, Safety Shutdowns, Alarms, Pressure Control Loops, Valve Cycling, Temperature Profile, Burner Tuning and Airflow Verification.
Additional Services include Emission Monitoring of Process, Destruction Efficiency Checks, Onsite Analysis, Laboratory Analysis, Catalyst Activity Testing, System Inlet Balancing and Spare Parts Identification (critical and recommended).
General services include Troubleshooting Visits, Remote System Evaluation via  Integrated VPN, Maintenance Plans and Service Contracts, Operator Training, System Airflow Balancing, Destruction Efficiency Check-ups and Operating Cost Reviews
Finally, Spare Parts include Individual Part requests and recommended Spare Part packages.
About Ship & Shore Environmental, Inc.  
Ship & Shore Environmental, Inc. is a Long Beach, Calif.-based woman-owned, certified business specializing in air pollution capture and control systems for industrial applications.  Ship & Shore helps major manufacturers meet Volatile Organic Compounds (VOC) abatement challenges by providing customized energy-efficient air pollution abatement systems for various industries, resulting in improved operational efficiency and tailored "green" solutions.   Since 2000, Ship & Shore has been prepared to handle and advise on the full spectrum of environmental needs with its complete array of engineering and manufacturing capabilities and multiple offices around the U.S., Canada, Europe and most recently, China. With over 100 specialized professionals spread throughout the world, the company is dedicated to designing tailored solutions for its energy clients. For more information call our clean tech engineering team at (562)997-0233 or CONTACT US by EMAIL